Greetings from the Chairperson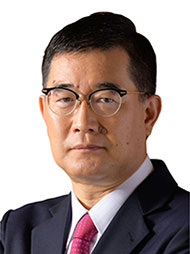 The Ritsumeikan Academy was originally established as Ritsumeikan, a private academy in 1869, by Prince Kinmochi Saionji who was a leading politician and cosmopolitan of modern Japan when he was only 20 years old. A young man Saionji claimed to stand for liberalism and internationalism and devoted his life for Japan to play a perfect role in the world.
In 1900, Kojuro Nakagawa followed the spirit of Saionji and established the Kyoto Hosei Gakko (Kyoto School of Law and Politics). Over 110 years later, Ritsumeikan has become an integrated academy with a rich culture of individuality and international awareness accommodating a total of 50,000 students. The current Ritsumeikan Academy has campuses in Hokkaido, Shiga, Kyoto, Osaka, Oita and encompasses two universities, four junior & senior high schools, and one primary school.
The mission of the Ritsumeikan Academy is to solve the various problems that humankind faces today and foster the human resources required by the world and Japan. We consider how to meet and respond to those problems decides the meaning of our existence.
The society we live today requires individual and creative human resources. And we as a private academy is the one who can produce the creative personnel in diversity. In order to do so, we must be proud of being a private school, have a strong commitment as a private school, and learn from our history. At the same time, we must keep trying new type of education and research activities.
We live in the era of significant change. For over 60 years after the War, Japan has been enjoying the peace and quiet. However, in return for achieving the economic prosperity we are facing the destruction of the natural environment and the moral corruption. When you look at the world, so many serious problems such as conflict, poverty, hunger, inequality, environmental destruction are still unsolved and piled up.
Many events happen in the world are stated by the course of history, have an influence on many things each other, and leave scars to the next generation. I wish all the students at Ritsumeikan will foster the ability to carefully consider the historic, social, and ethical meaning of the each event, perceive the true nature of each thing, see through the society and history, and go out to the world.
Various types of talents are gathered here at Ritsumeikan. Diversity is the source of creativity. We all do your best to make our school to be the place where the young fellows can flower into their potentials and play an active role on the world stage in the future.
ToyoOmi Nagata Ph.D.
Chairperson of the Board of Trustees
The Ritsumeikan Trust